Little Turtle
Little Turtle, whose Indian name was Michikinikwa, began his illustrious life in 1752 in a village close to Fort Wayne. His mother was a Mahican and his father a Miami Chief. Little Turtle was destined to become the greatest of all the Miami Chiefs; fighting bitterly against white encroachment on to Indian lands, and preaching peace when the Indian loss of life, and extinction seemed probable. A rational voice in a troubling time.
His first brush with fame occurred in the defense of his village against a French attack. In his youth, and as a young warrior, he was friendly toward the British as they battled the French and Americans for control of the territory. Before the Revolutionary War, control of the land was an issue for the English and for the Indians. After the British loss they retreated to Canada, and the Indians were left with a still unresolved land control issue. The 'Little Turtle Wars' began.
It was 1790, General Harmar (pictured at bottom right) suffered defeat at the hands of Little Turtle, as did General St. Clair in the following year. Their successor, General Wayne, caused Little Turtle to realize that inevitable defeat lay ahead, and since he could not convince his followers of their folly, he stepped down in favor of Blue Jacket.
Little Turtle placed his mark on the Treaty of Greene Ville, and never went to war again. Tecumseh tried desperately to gain his support for a new war against the whites, but Little Turtle became a great advocate for peace, making many trips to eastern cities, where, on one such trip, he met President George Washington in Philadelphia. He was given a government stipend on which to retire, and the Governor of the Indiana territory built him a house on the Maumee River, where, in 1812, he died from gout.
'Indian' segment written in December, 1997 by David Lodge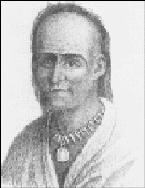 Chief Little Turtle