Cook's Building - 1853
Built in 1853, this home originally sat at the southwest corner of Court and Main streets, facing the square. Charles Graham sold the lot to John Wharton in 1854, who in turn sold it to Charles McLaughlin two years later. The house was moved to its present site in 1895 to make room for the large brick building (Annex) which now serves as offices for the Shelby County Commissioners.
This two-story, three-bay brick residence is Sidney's finest example of Greek Revival architecture. It features a prominent pedimented roof with raking cornice and dentils. The door has an elliptical fanlight above, and is flanked by sidelights of beveled, leaded glass. On the south side of the house, there is a large arched stained glass window on the upper floor.
At one time, a former owner of the Spot Restaurant, Joe Cook, lived here. He could easily walk the one block from his home to 'work' at the Spot. The Cook House was razed in the summer of 2011.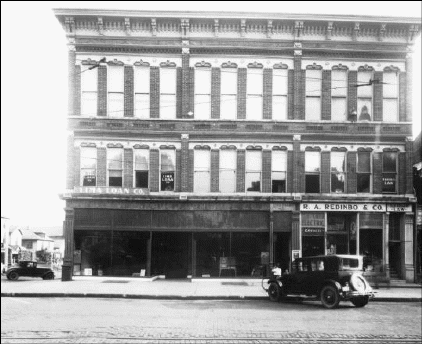 Now serving as the Annex, this is the building which was constructed after Cook's
was moved to a new site. Notice the interurban tracks on Court Street.
'Downtown' segment written in October, 1998 by Sherrie Casad-Lodge