Anna Normal School opened in Shelby County, Ohio in the fall of 1915, housed in one wing of the Anna School. A comprehensive one-year training course was offered to prepare elementary teachers in all of the basics. My mother, Gladys Gaines Foster, was a student at the Normal School during its second year of operation. She graduated from Normal School in 1917 and began to teach at the age of 18.
Mother's first teaching was in Shelby County Schools, followed by several years of teaching in St. Petersburg, Florida, making a total of eight years in her early teaching career. After my father died in 1952, she went back to school and teaching, graduating in 1958 from Ohio Northern University with a Bachelor of Science degree. She continued teaching until she was 75 years old, making a total of 21 years in the Sidney school system.
At the beginning Mother taught grades 1-8 in one-room schools, where she had all of the janitorial duties, including building the fire to keep the classroom warm in cold weather. Though she no doubt told me, I do not remember her salary in those early years, but I know it was very small.
Scrapbook Reveals Rules for Teachers

The following rules for teachers in 1872 (before mother's time) were found in her scrapbook.
1. Teachers each day will fill lamps and clean chimneys.
2. Each teacher will bring a bucket of water and a scuttle of coal for the day.
3. Make your pens carefully. You may whittle nibs to the individual taste of the pupils.
4. Men teachers may take one evening each week for courting purposes, or two evenings a week if they go to church regularly.
5. After ten hours in school, the teachers may spend the remaining time reading the Bible or other good books.
6. Women teachers who marry or engage in unseemly conduct will be dismissed.
7. Every teacher should lay aside from each pay a goodly sum of his earnings for his benefit during his declining years so that he will not become a burden.
8. Any teacher who smokes, uses liquor in any form, frequents pool or public halls, or gets shaved in a barber shop will give good reason to suspect his worth, intention, integrity, and honesty.
9. The teacher who performs his labor faithfully and without fault for five years will be given an increase of twenty-five cents per week in his pay, providing the Board of Education approves.
Perhaps some of this may be "tongue in cheek," but nevertheless these rules are true indications of what was expected of teachers in those days.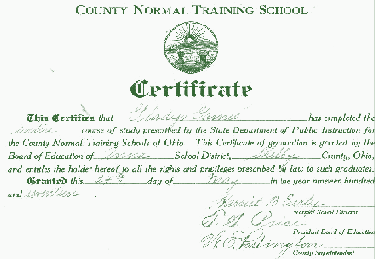 The author's mother, Gladys Gaines, earned this teaching certificate from
Anna Normal School in 1917 at the age of 17 years.
In her scrapbook I also found an actual 1923 Florida teaching contract, where my mother taught for several years. The contractual salary was $110 per month. Listed were 23 rigid stipulations to be obeyed, two of which include: "Keep school grounds and premises clean and free from trash, waste paper, etc." and "Avoid breaking the skin or drawing blood in punishing a pupil. In corporal punishment avoid the use of clubs, books, or other inconsistent objects."
Anna Normal School turned out 212 graduates before closing at the end of the 1927 school year because of the belief that teachers should have more than one year of training. The building in which the Anna Normal School was housed, along with all grades of the Anna School, was built in 1883 at a total cost of $7,513.40. Previously, there had been a series of three small log school buildings, the first built in 1836. A March 14, 1925, state inspection of the 1883 red brick building determined that it was inadequate, so on August 19, 1925, the Anna Board of Education passed a resolution to build a new building. This white brick building was dedicated on February 11, 1927, and was in use only ten years.
Earthquake Destroyed School
On March 2, 1937, an earthquake at 9:50 a.m. shook the 1927 building so severely that all of it, except the partially completed farm shop, was condemned and razed. The wrecking of the building in the summer of 1937 cost $5,000.
For one day, March 8, 1937, the entire student body was housed in the Sunday School rooms of the two local churches. These structures were damaged by an intense tremor on March 9 at 12:45 a.m. From March 15 to May 28, 1937, all pupils and teachers were housed in the living rooms, dining rooms, or office rooms of fourteen private homes, with the entire system united by a public address system.
On August 13, 1937, the U.S. War Department granted the use of the abandoned CCC barracks at Sidney to the Anna Board of Education. Beginning on August 17, 14,600 square feet of buildings were transported to Anna. The "barracks" were joined, arranged, furnished, and ready for occupancy on Tuesday, September 7, the opening day of the fall term. These barracks were arranged into 18 class rooms. The pupils of the Anna schools were housed in the barracks for the entire 1937-38 school year; the buildings covered about 15,000 square feet of area on the school playground opposite the building site.
Actual work on the new school building was begun on December 6, 1937, and nine months later, on September 6, 1938, students entered the building for their new school year. The inscriptions over the main entrances read: LEARNING IS LIVING; KNOWLEDGE IS POWER; ENTER TO LEARN, LEAVE TO SERVE. I had the privilege of teaching high school home economics in this building from February 1959 to June 1960, at which time I was called to Columbus to work in the State Department of Education. The 1938 building is still used for grades 6 through 12, with twelve additional classrooms to be added for use starting in the fall of 2000. Grades K through 5 are housed in the new elementary school which opened in 1994.

The successor to this 1883 Anna School building was destroyed by a severe earthquake in 1937.
The present school building in Anna was built in 1938.
Gladys Gaines operates the spinning wheel in this 1916 Thanksgiving play given by Anna Normal students.
Anna Area Schools Since 1836
The first school house in Dinsmore Twp. was built in 1836 of round logs. The building was about 20 feet square, with puncheon floor and seats; a spacious fireplace extended the full length of the north side; a stick chimney and a one-light window. It was located in the north-west corner of the plat, now known as the Loramie Graveyard. The second building was similar in construction, except as to windows, which in this case consisted of three-light sash placed in a right line and filled with glass. The third house was a log building about 18 x 20 ft. built in 1844. An election in 1876 created the Anna Special School District from portions of Dinsmore and Franklin townships.
On one corner, where Main Street and the toll road crossed, was the first school house (in Anna), built in 1876, sometimes in the pond, a brushy acre or two on another corner, plenty of room for a deeper pond on the third, with John Munch and his original log house on the fourth corner, high and dry. This school house was a one-room building in the beginning, but later another department was added.
The next school building was completed in 1883 at a cost of $7,513. Three departments were then instituted, and after 1890 four departments were maintained and also a County Normal. The Normal School was abolished in 1927, after operating for twelve years.
The next school building was built in 1927 (destroyed in 1937) on the same site on which the old building stood. Contractors were Kuck & Neimeyer, of New Knoxville, and the architect was F.A. DeCurtins. It was built at a cost of $65,000. It had ten class rooms, gym, and a large modern basement. The school board believed that "all work and no play makes Jack a dull boy," and therefore obtained a large tract of land adjoining the school ground to be used as a playground.
(Excerpts from 1898 Anna School Course of Study and Manual, January 24, 1898, and Anna Centennial History, 1833-1933, by Paul Schilling and Willis Ailes, October 1933.)
Built in 1927, this Anna schoolhouse lasted but 10 years
until destroyed by the 1937 earthquake.